The World Show January 2018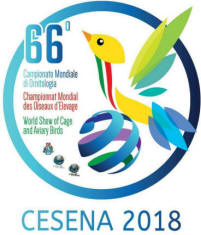 The 66th World Show organised by the CONFEDERATION ORNITHOLOGIQUE MONDIALE (C.O.M.)Cesena, Italy from 19th to 21st January 2018
This event attracts a large entry and in 2017 the entry was 25,953 from 3,124 exhibitors representing 22 countries. Apart from the large number of birds on display there are many sales stands for fanciers to buy an array of goods as well as birds.
The UK entry is taken by experienced conveyors who transport the U.K. team of birds to and from the show. Entries have to sent to the COM-UK Show Co-ordinator Simon Tammam (396 Ashley Road, Poole, Dorset BH14 0AA. Tel: 01202 730221 Email: simontammam@aol.com ). Birds are well looked after while away at the show; being watered and fed twice daily. Please contact Ghalib Al-Nasser (ghalib.alnasser@gmail.com) or Simon Tamman for any further information.
Cesena 2018 website is www.cesena2018.com
The site is available in three languages. You can find all the information on Committee, Program, Location, How to come, Hospitality, Classes, Registration, Rules, Booking Form, Sales Stands, Tickets.
Click on the following links for Variety Schedules and Entry Form for the 2018 Show.